SKI COURSES Donovaly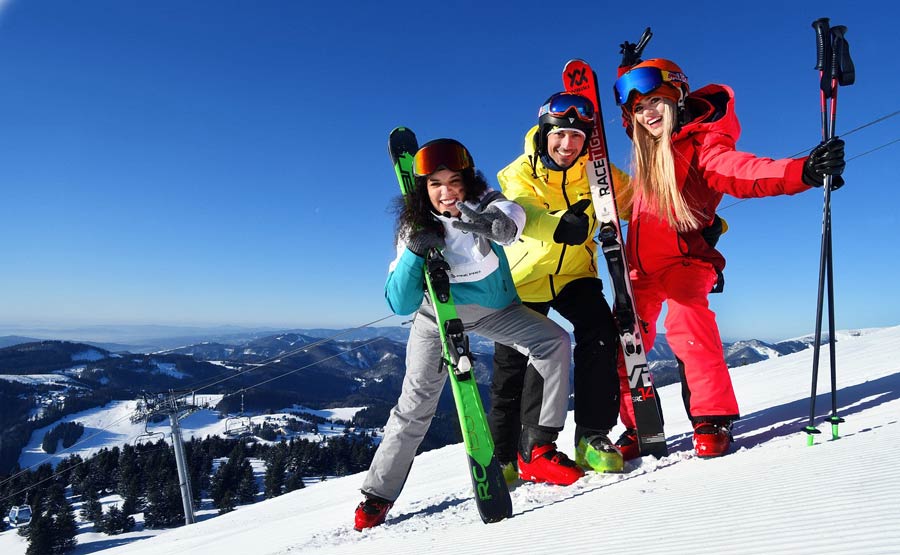 Why a ski course in Donovaly?
✅ daily skipass from 7€
✅ slopes for beginners, intermediate and advanced skiers
✅ possibility of evening skiing and skiing lessons even during weekends
✅ great snow conditions from December to March + excellent transport accessibility
✅ a wide range of free leisure activities - skating, sledding, hiking, cross-country and ski touring tracks and much more

Price list ski courses
In the winter season 2022/2023, we will provide for ski courses organized by primary and high schoools and colleges with discounts in the following range:
| DATES | 5 Day skipass | 4 Day skipass | 3 Day skipass |
| --- | --- | --- | --- |
| until 23.12.2022 | 35,00 € | 30,00 € | 25,00 € |
| from 09.01.2023 – 12.02.2023 | 50,00 € | 45,00 € | 40,00 € |
| from 13.02.2023 – 05.03.2023 | 60,00 € | 55,00 € | 50,00 € |
| from 06.03.2023 | 35,00 € | 30,00 € | 25,00 € |
Additional information:
Extra charge for evening skiing 16:00 - 20:00 is €5/ person/ day.
Skipasses for ski courses can be used on the weekend for an extra charge of €5/ person/ day.
Prices are valid only for groups of 15 or more people. One instructor's skipass is free for every 15 purchased student skipasses.

The above-mentioned prices for organized ski courses are valid only in the ski resort PARK SNOW Donovaly.
Conditions for providing a discount:

This price is only valid for primary and high schoools and colleges based on the submission of a complete list confirmed by the school principal (name, date of birth) and the age requirement must also be met. For every 15 purchased skipasses, 1 instructor ticket is free. The condition for providing this price for the course is the purchase of skipasses exclusively at the PARK SNOW Donovaly center head office at the valley station of the TELEMIX Nová hoľa chair lift.

When buying skipasses, it is not necessary to submit photos of students, the personalization of skipasses takes place directly at the turnstiles of the TELEMIX Nová hoľa and Buly Expres Záhradište chair lifts.

Skipasses must be purchased for the entire length of stay, i.e. not every day in the morning, at least 1 day in advance until 4:00 p.m., or in the morning on the day of the start of skiing from 8:30 a.m.. In case of illness or if for some other reason it is not possible to ski all days, it is possible to return the money for non-skied days only on the basis of presenting a medical report.

A group that is entitled to the above prize must have min. 15 people + group leader. If there is more than one group leader per 15 persons, this person will purchase a skipass at the same rate as the other members of the group.
All skipasses are issued on a chip card, for which a deposit of €2 is payable. Deposit will be returned after the end of the skiing course only for an undamaged and fully functional card.